There were 3 Bible study classes that graduated this week.  They were all 6 weeks long.  One class was "Good News About Jesus" and there were 2 classes on "God Loves You So Much."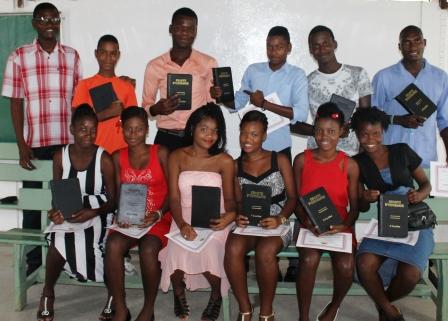 Here is some feedback from those that participated:
This is what I think about the group.  For me it is a good encouragement for the youth to advance.  All the young guys around my house liked to read the book because it encouraged them.  We would like to have another study because we learned a lot and we want to learn more.  -Cleefson
This book is a good book to help understand forgiveness.  It helps us have more trust in God.  -Martha
I don't regret that I came to this study that has the name "Good News About Jesus."  This book has taught me many things about the abilities of Jesus.  I want to say thank you to everyone.  Thank you for choosing me for this class.  This was a good way to pass my summer vacation.  -Rose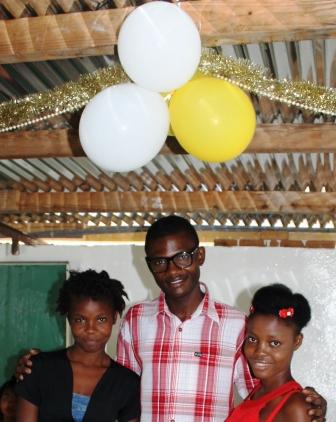 Hello! I greet you in the name of God, our Father.  I am very happy I was in this Bible study.  It showed me many beautiful things.  It helped me to not be mad at others anymore.  It helped me know the Bible better.  I really liked it a lot. I liked every thing in the book.  I would like to be in another Bible study.  Thank you to the teacher.  I hope you continue to have strength so that you can always do these classes for others.  -Shellie
For me, this book was very important because it has some things that it said in it that really helped me – like where it talked about not giving evil for evil and where it said that even when someone does something bad to me, if they ask for forgiveness, I should forgive them.  I think this book helped every person in the class.  I am telling the teacher thank you because he had so much patience with us.  I pray that God will give him more strength for the future.  -Jeanicia
What I liked about the class was the way that the teacher took his time to talk to us and teach us.  I learned about many things about Jesus and about the GOOD NEWS.  I want to thank everyone for this wonderful class.  -Louicilia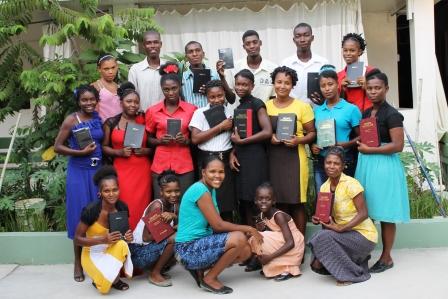 We thank those that have contributed to the Bible fund that allows us to bless these participants with a new Bible or songbook.  Thank you to LIFE Literature who provides the Bible study books for free.  If you are interested in sponsoring a class or providing a Bible, please let us know and we'll give you more info.  May His Word go forth to the nations.  To God be the Glory!