Elmise is 45 years old.  She has been with us here at RHFH since Oct of 2014. This is her story, told by her to us.
She has given birth to 5 children in her lifetime. Three of those children have died.  A baby boy died when it was three days old, she said it cried for three days straight and then died.    A girl that was 8 had a seizure and died, the closest hospital was a few hours walk from their home and she died before they got there. The last child, a little boy named Marvens, is pictured below with her here at RHFH.  After she had Marvens she become ill.  She tried to care for him the best she could, but it got to the point that she could hardly walk.  She left him with family to care for him and he was in good health when she left.   She went to find help in the capital of Port-au-Prince.  She was admitted to a Sister of Charity hospital and stayed there several months. She was getting better and feeling well.  They asked her to stay and complete her treatment.  Her family came to see her and told her that Marvens was very sick.  She asked to leave to go see him.  They asked her to stay and finish her treatment.  She stayed and asked the family to take Marvens to a hospital.  After a few weeks they returned and said that he was worse.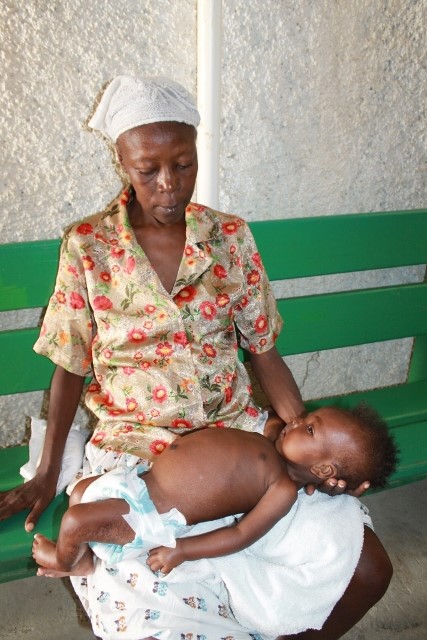 She asked if they had taken him to the hospital and they said no, they had been to the local houngan and been getting treatment from him.  She very upset that they had not got medical help for him.  She left without being discharged from the hospital, and therefore did not receive her medications that she needed to finish her treatment.  She went home and found Marvens (see above).  He was very swollen with a severe case of kwashiorkor and was very sick.  She cried.  She asked her family to help her get him to a doctor and they refused. She had no money.   They told her if she left that Marvens would die and she would too.  She left the next morning and went to stay with another sister.  Near the sister's home Children's Health Ministries, was doing their outpatient medika mamba program.  Her sister told her to return home and follow the families advice. While at Sisters of Charity she became a christian.  She believe in God and believed that He would be with her.  She went to the clinic and they told her Marvens was very sick and needed to travel to get to a hospital that they knew of.  She accepted and she traveled with an employee of CHM to RHFH.  When she arrived she was scared.  She was in a village that she had never been to, and knew no one.  The man that brought her needed to return home as it was getting late and it would take him a few hours to get back into town.  We saw Elmise and she was not in good health herself.  Her legs and feet were very swollen and she was having such a difficult time breathing if was difficult was her to even talk.  We asked her to stay overnight so we could better access her and Marvens.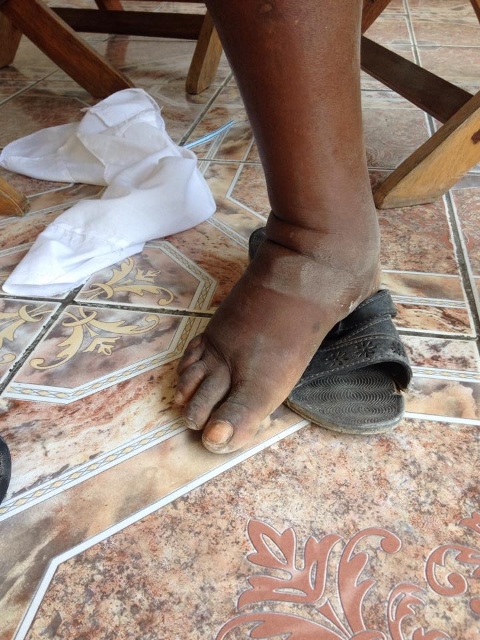 She agreed.  The next day we knew that she was not well enough to travel again.  We made a place for both of them.  Marvens was admitted to the ICU and she stayed in a different area.  After a few days her swelling became worse and she could not walk on her own.  We began basic medication and once she was able sent her for testing.   In the meantime Marvens was fighting to live and recover from complications from kwashiorkor.  He did not make it and died.  Elmise was devastated.  We expected that she would want to return home.  But she said there is nothing there for her.  She believed that God would help her and Marvens.  Marvens did not make it so now she still believed that He would help her.  She asked if she could stay.  We said yes.  When she was admitted she weighted 99 pounds.  After her edema (swelling) went down she weighted 83 pounds.  It took her several weeks to get to the point that she could get around by herself.  But over time she began to regain her strength and hope. She began to gain weight and recover.  She currently weighs 99 pounds.  She is healthy and full of live, and a joy for all those that know her here at RHFH.  Every night you will find her on her bed with her hands lifted to God.  She is praying for the kids in the ICU, her family, the staff and RHFH and thanking God for healing her.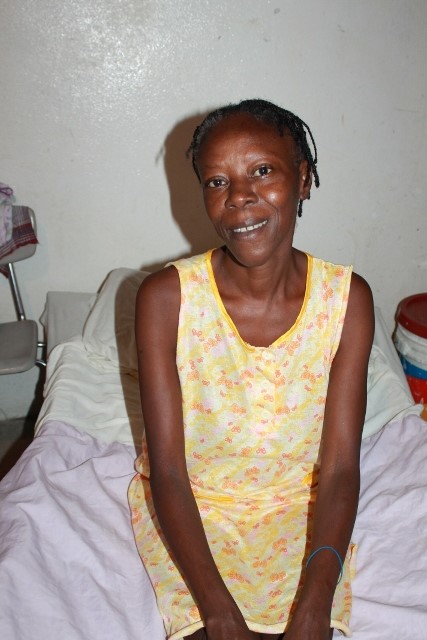 She has 2 living children.  They are 24 and 19 years old.  She has not seen then for over a year.  When she was sick the first time she talked to them a few times on the phone.  She literally left her home early one morning and has not returned.  No one has come to ask for her or about her.  We have attempted several times to see what we can do to help her let her kids know she is alive and ok.  She begins to cry and says that she cannot leave yet she has to finish her treatment.  This week we talked again.  We assured her that she is always welcome here.  Always.  She is very scared.  She does not want to return to her home or family because they will not support her since she is a Christian now.   She is scared to go since no one has even came to see if she is alive or dead.  She made a brave choice today for her 2 remaining kids.  She wants to find them and let them know that she is alive and ok.  She does not know how they will accept her now that she follows Jesus.  But she is ready to see.  We will be making plans soon to have a staff member travel with here to locate her children and visit her extended family.  Only God knows how that day will be for her.  Will she find her kids, will they accept her, is her home still there, does anyone care if she is alive or dead?  These thought run through her mind daily.  Will you join us in prayer for Elmise.  We want her to have peace in her heart about her children and family.  We want her to know she has a safe place here to return to no matter what happens.   We want her to know that so many are with her on her journey in life.