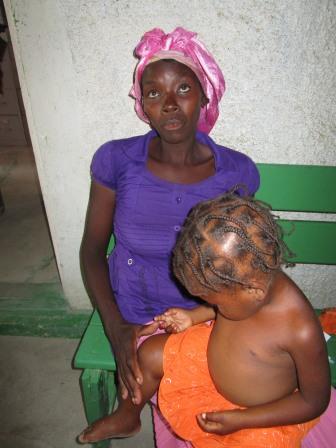 Guerlanda's mama and papa have 6 living children. They live in a village that is 5 hours away by motorcycle. Guerlanda's parents are both farmers.  Neither one of them were able to attend school.  Neither one of them can read or write.  The family lives deep in the mountains behind the valley of Cazale.  There are 9 people that live in their 4 room home made of rocks, clay and tin.  They do not have running water at their home or a flush toilet, but do have an outhouse.  They get their water from a source that is about a 5 minute walk from their home.  The family grow beans, corn and pumpkins in their gardens.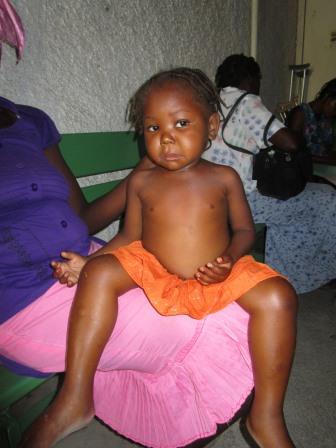 Guerlande is 4 years old and weighs 26 pounds.  About 6 pounds of this weight is "water weight" caused by her severe form of malnutrition called kwashiorkor.  Her mama knew that she was very sick when she saw that her legs, and feet were beginning to retain water. She waited about 1 week before she traveled to the clinic. She lost 2 days of work to travel from her home and to the clinic and back.  Basically she eats 1 plate of rice each day.  Sometimes, if they can find them she will have mangoes, or other fruits.  Her mama tells us that she also has long white worms.  She is very worried about her daughter.  She and her husband talked before they came to the clinic.  They had heard about our outpatient feeding program and our inpatient program.  They thought that it would be to hard for them to miss 2 days a week to come to the outpatient feeding program at this time.  Everyone  is working in their fields and gardens now to get the crops planted.  A good crop can provide money for the family for 4 to 5 months.  So they asked if we could admit her into out inpatient program.  The families average monthly income is around $110US.  She was started on the F-75 milk and then graduated to the medika mamba program.  We are happy that her parents made the sacrifice to travel a long distance in hopes of finding help for their daughter.
*************************************************************************************
We are looking for a faithful monthly sponsor for Guerlanda.  You can do this by being a full sponsor for $125 a month or be a co-sponsor for $60, $40, or $30 a month. You can go HERE for more information about sponsorship or HERE to sign up through paypal for sponsorship. THANK YOU!  THANK YOU!  THANK YOU!  If you have any questions please email us at info@realhopeforhaiti.org
So far this month we have faithful sponsors for Wilenska, Saintemene and Onal.  Would you consider sponsoring Guerlanda?