This little bundle of joy came to us last year weighing just 2 pounds 13 ounces.  Her mama had cholera and delivered her early and then died.  The family has also lost 3 other children.  Her papa is a farmer and grows sweet potatoes in his fields.  He asked us to care for Johanne until she is walking and off of infant formula.  At this point he will be able to take her to the fields where he works and she can sit under the shade trees with the other kids why the parents work and be ok.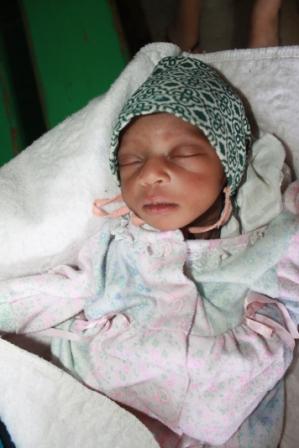 Johanne was blessed the first month of her life to have 2 volunteers that gave her 24/7 care and she began to thrive and gain weight.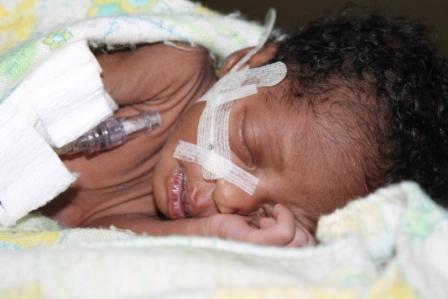 Here she is now growing and happy and healthy.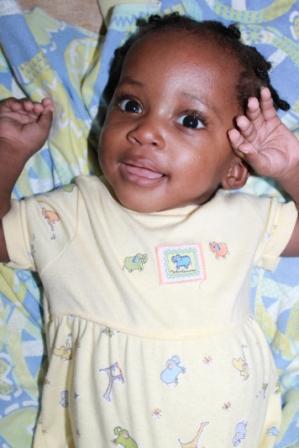 We have many children that are just like Johanne.  Their mama have died in childbirth or shortly after and the family cannot afford infant formula.  Many of the families come from deep in the mountains and work from sun up to sun down in the gardens.  Everyone must work so the family will make a profit and be able to feed everyone.  Most families live in survival mood, and everyone is out doing something to provide for the family. It leave no one to care for the small children.
We have a wonderful organization called Formula One Life that has been helping many children just like Johanne, not just here in Haiti, but all over the world.  They have been faithful year after year to help meet a portion of our need for infant formula for the babies in the ICU and Rescue Center.  What a blessing they have been to RHFH.  They are offering a matching grant of $2000 for infant formula for RHFH.  That means each dollar you give will be doubled with this matching grant.  How exciting is that!
We also have another friend that will match donations up to $400.  So if we can raise $2,400 for formula these grants will make the total raised $4,800 for infant formula.  WOW what a blessing that will be.
Just a few weeks ago we only had enough formula to last 15 days.  That same week we had 2 different team that came and brought formula that stretched us another week!  God always provides and we have no doubt that HE will once again provide for this urgent need for the babies here at RHFH.
If you would like to donate for this need you can use the paypal button on the right hand side on the blog or send donations to our home address Real Hope for Haiti/15215 Endeavor Drive/Noblesville, IN 46060.  Please include a note or memo letting us know it is for "infant formula"
Thank you! Thank you! Thank you!