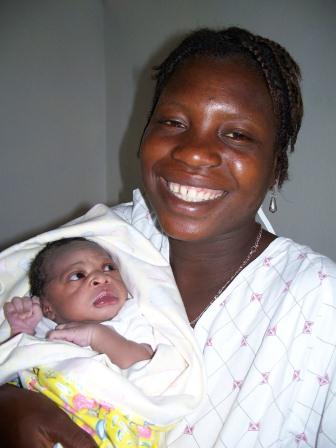 Layette Kits are given as a gift to new moms when they bring their newborn baby in for a check-up at the clinic. The kit provides an incentive for mother and baby to be seen at the clinic in the baby's first two weeks of life. This visit gives health workers an opportunity to discuss infant care and breastfeeding; similar to information women receive in modern hospitals. The kit provides the mom with items needed to care for her baby.
Caring for an infant while experiencing poverty can be difficult and mothers can become discouraged and depressed if they aren't able to properly care for their babies. These kits give moms items they need and can help moms be proud of themselves and their babies.
We give out roughly 50 kits per month or 600 kits per year.
This is another great project for small groups to do together.
Here's how to get started:
Layette Kits Flyer listing what is included in each kit.
Layette Kits Frequently Asked Questions 
Creole Labels for the shampoo, lotion and cream – 30 labels of each or 6 labels of each.
Creole Gift Tags with an encouraging verse for the mothers.
Diaper Pattern used in Layette Kits. (See FAQ for other diaper options)
Video with instructions for the kits.

If you are interested in making these kits and would like to know where to send them, please email us at info@realhopeforhaiti.org.