We are so thankful to each of you that have given so far this month to increase RC sponsorship.  We have highlighted 4 children and all 4 of them now have sponsors!  That is exciting. We wanted to tell you about another child that is in need of a sponsor.  His name is Marc.  This is his story.
Marc's mama died.  She was very sick. She came to the clinic in search of help.  She was unable to walk and had a raging fever.  We started her on medications right away.  After a few hours her family decided they wanted to return home with her.  They did not believe she has a sickness that a doctor could heal.  She died a few days later.  There are several other siblings in the family.  Marc papa is a farmer.  This means that most days he is either working in the fields, planting, weeding or harvesting the crops.  All farming is down by hand with rugged tools.    His wife, who died, also was a big help to him.  She would travel 3 to 4 times a week to local open air markets to sell their produce and buy food for the family.  The family grows corn, beans and pumpkins in their gardens.
Marc stayed with an aunt for a few weeks after his mama died.  The papa was hopeful that the aunt would care for him, but she does not have the time as she is taking care of her own children and family.  She works in her gardens and sells the produce as well.  His papa has to work in the gardens this is the only source of income they have for the family to eat.  A good crop can support the family for many months.   His papa has limited choices as to what can be done at this time.  He knows he can take him to and orphanage and he will most likely live, but then he will not be able to know his son. He wants his son to be with him and grow up with his papa. But at this time all of his family members, just like him, are in survival mood just to keep living.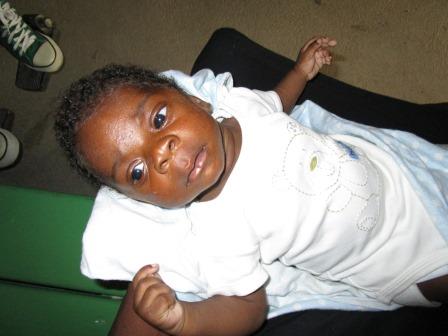 Marc papa brought him to the clinic and asked if we could help.  We suggested that he find a family member to help care for him and that we could provide formula.  He searched for 2 weeks asking everyone that he knew and could not locate anyone.  It is the beginning of rainy season in their area and everyone is working to prepare the fields and plant the crops.  He returned with Marc and ask us to keep him for awhile.  He would like for him to stay until he is walking. Walking is such a huge milestone for them.  His papa tells us if he can make it to walking he will be able to better care for him.  He tells us that at that age he can take him to the fields when they are working and leave him under a shade tree with his older children to play while the family works.  We want to be able to keep this family together long term.  Would you consider sponsoring Marc?
*****************************************************************************************
We are looking for a faithful monthly sponsor for Marc.  You can do this by being a full sponsor for $125 a month or be a co-sponsor for $60, $40, or $30 a month. You can go HERE for more information about sponsorship or HERE to sign up through paypal for sponsorship. THANK YOU!  THANK YOU!  THANK YOU!  If you have any questions please email us at info@realhopeforhaiti.org
So far this month we have faithful sponsors for Wilenska, Saintemene and Onal and Guerlanda.  Would you consider sponsoring Marc?