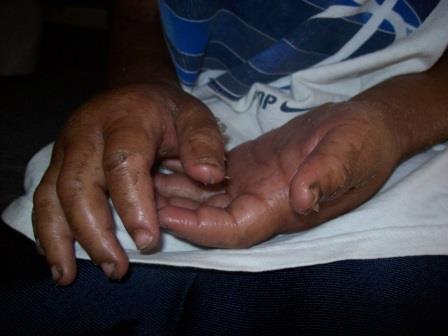 We are dedicating the month of June to increase Rescue Center sponsorship.    We have estimated that it cost about $125US per month for us to house and care for the children in our care.  This includes food, medical care and testing, housing, clothing, and nannies to care for them 24/7.  The does not include the cost of medika mamba or infant formula.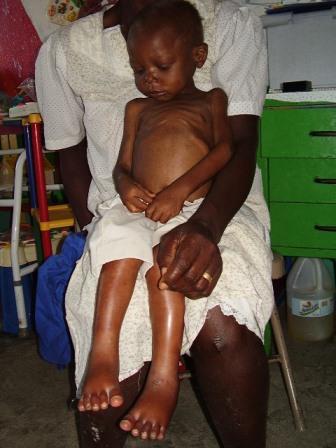 Many families travel for up to 6 to 8 hours or farther away to come to the clinic for medical care.  Some come with the intent of leaving their child for inpatient care, some wish to try outpatient care first before they consider inpatient care.  Once they have their chart made they are seen by a nurse or doctor.  We measure each child's height, arm circumference and weigh them to determine whether or not they will quality for outpatient or inpatient care program.  We let the Haitian staff talk to each family and hear their individual stories or cases.  We have found over the years that most in our area feel more comfortable talking with our nurses and staff than the foreigners.  Once the staff has talked with the family and believe that they should be considered for inpatient care they call the director of the RC or clinic to talk with the family.  We all sit together and figure out what has led the patient to get to this point.  The nurses do lots of educations with the families during this time as well.  Before the patient is admitted we have to explain to many that there is a very high chance that they will die.  We do everything we can to heal the patient but many come to late and are to sick.  This is one of the most difficult decisions that the parents have to make.  Many do not take it lightly, there are often tears shed and that last longing look back at the child hoping that when they return they will be alive.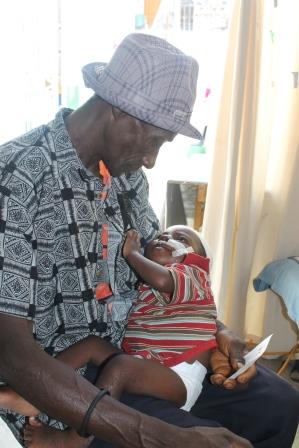 What types of Patients does RC sponsorship cover?
1.  SEVERELY MALNOURISHED CHILDREN
These are kids that are severely malnourished with marasmus,  kwashiorkor or both when admitted.  We feel that if they are not admitted they are in danger of death.
child with severe Marasmus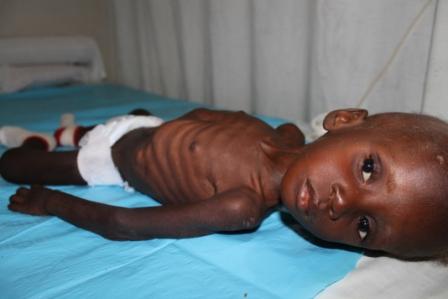 child with severe kwashiorkor 
2. NEW BORN BABIES
This is a small group that we monitor closely to determine if they qualify for inpatient care.  99% of those admitted have lost their mama's in child birth.  We work with the immediate family member to determine if there is someone that can care for the baby  at home.  This is our first choice.  Many can find an aunt of grandma that is willing to care for the baby if we can provide formula for them.  Sometimes they are able to find a family member that will be a wet nurse to the baby as well.  We monitor them every 2 weeks for a few months and then once a month for weight check-ups.  We have had great success with these cases.  If we cannot find a family member and feel we have exhausted all other avenues for the child to remain in an outpatient setting then we consider the baby to be admitted into the inpatient program.  The exception would be if there was a complication when they first came to the clinic.  (example low birth weight, high fever, infection etc) These children stay an average of 12 to 18 months.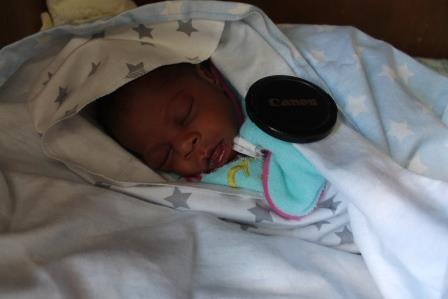 3. BURNS, ABSCESSES AND OTHER SERIOUS ILLNESSES
Many times we have children and adults that have been burned.  We do daily dressing changes for these patients.  We first try to find them a place closer to the clinic for them to stay if they live from very far away.  Many times they will have a distant family member that is willing to house them during their recovery time.  If there is no place else for them to stay we will house them during their recovery process. We see a lot of abscesses here that need to be packed and dressing changed daily or twice a day for some.  There are other injuries as well that require daily dressing changes.  These patients stay for a short amount of time during recovery.  We also have some that are in need of daily injections for several days these patients also will stay for a short amount of time if they live far away.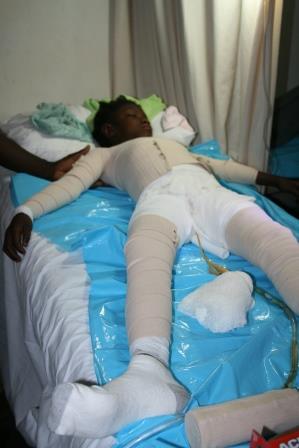 4. OTHERS
This could be a patient that needs an IV for a day or two, a hospice patient, a patient recovering from a recent surgery,  a diabetic patient trying to get medications regulated,  someone needing oxygen, etc.  These patients might just stay for a few days or months depending on their condition.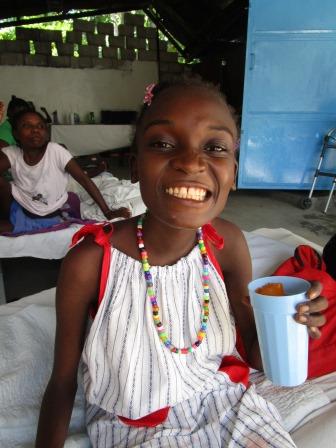 **********************************************************************************************************
We are going to be telling you this month about several children that are in need of sponsors.  There are 4 options we would like you to consider
full sponsorship ($125 per month)
co-sponsorship ($60, $40 or $30 a month)
You can click here on the Co-Sponsorship Child page to easily set up a reoccurring payment. Or you can send a donation to
Real Hope For Haiti/ 15215 Endeavor Dr/ Noblesville, Indiana 46060 ~include a memo or note letting us know it is for RC sponsorship.  If you have any questions please email us at info@realhopeforhaiti.org
************************************************************************************************************
This is Saintmene.  She is 8 years old and weighs 39 pounds.  She has been following in the outpatient program for several months with no weigh gain but weight loss.    Her mama and papa are both dead.  She misses them greatly.  She is being raised by an older sibling that does not really have the means to care for her or the space at her home.  She lives in a 2 room home  made of tin, clay and rocks with 5 other family members.  They do not have running water at their home or a flush toilet, not even an outhouse. They walk about 30 minutes one way to a source to get water.  Saintemene has been losing weight for about 3 months now, she has stomachaches about everyday and feels weak most days.  The family traveled about 1 hour by moto to arrive at the clinic.  She was started on the F-75 milk and then graduated to the medika mamba program.  Would you consider being her sponsor?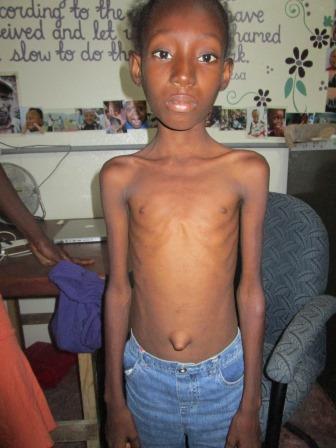 Once we have a sponsor for Saintemene we will let you know and introduce you to another child.