Hundreds of our friends and supporters gather supplies for the children and patients that we care for.  These supply containers used to be sent once a year, but are now being sent twice a year.  We always have supplies, medications, formula, and other needed items to fill it.  THANK YOU!
This year, we requested children's toys for the rescue center and ICU and many were donated.
A group in Cape Girardeau, MO gathered many medical and child care supplies.  We had a packing day in MO.
Among other things, they packed 3 pallets of diapers!
They also gave a TV, DVD player, and DVDs for the kids in the rescue center.
All the items were sent to Indiana and put together with what we had there.
Most of the medication that was purchased was sent on this container.  There were a couple of pallets of soap that we left to come on the spring container.  Tylenol, vitamins, and antacids were among the medications bought and shipped with your help.  We were amazed that we were able to purchase so many wonderful medications that will benefit the thousands of people that we serve.  THANK YOU!
We made sure every space was filled to make sure we got the most for our shipping money.
It got close towards the end of loading, but we got it in there.
We prayed for protection and favor for the container, those handling it, and for it's arrival to Haiti.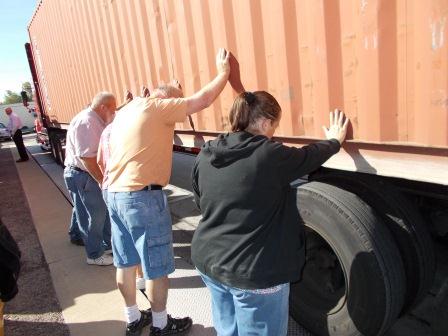 It is on it's way!  We'll let you know when it arrives.  Until then, remember to keep this matter in prayer (especially as it goes through the customs process).  THANK YOU!