Pascal is a 28 year old man that began working with us one time in 2011 when we needed an extra hand on a vetiver project.  He was recommended to us through another employee.  They worked together for 2 days to prepare the dirt and supplies needed to plant the vetiver in a small nursery in the clinic yard.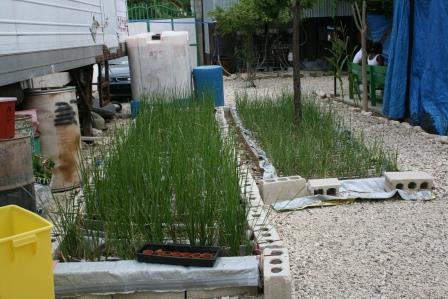 He was such a diligent and conscientious worker that we thought of him right away when we needed an employee at the cholera treatment center in Feb 2012.  He worked there controlling the gate, patient triage, driving the motorcycle, and running errands back and forth from the clinic to the cholera center until Sept 2014.
At that time, he moved down to the clinic and continues to work there.  He works from 6am-6pm on Mon, Thurs, Fri, and Sat.  When he gets to the clinic, he starts his day by preparing things to filter the water needed for the day and gets started on that.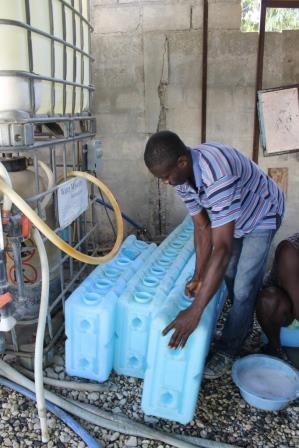 The machine can filter up to 10,000 gallons per day, but he usually only filters 4000-6000 gallons for a day.  This water is used in the clinic, cholera center, ICU, RC, guesthouse, staff houses, and for the community.  He filters water throughout the day depending on the needs.  He fills huge tanks on top of all of the houses that gravity feed the water and fills gallons to take to the cholera center.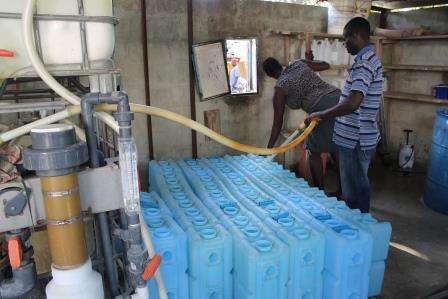 In the morning, he also gives soap to the laundry staff each day and helps them get their loads on their heads to carry off to the river.  He holds the keys to all the storage areas and must open these and give supplies to staff from multiple locations to help them do their jobs.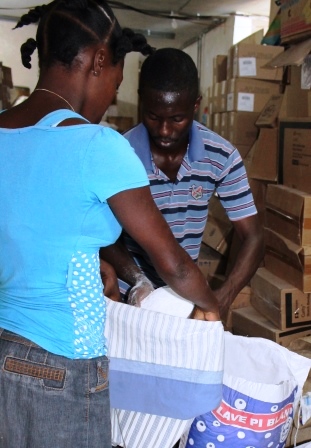 He charges phones and other electronics for people in the community and staff, helps with emergencies, hauls boxes and supplies, makes small repairs, directs patients, waters the plants, changes the propane gas tanks, gives patients water to drink, fills up the handwashing stations, loads the trash, plays with the kids (and tries to keep the older ones in line), feeds the chickens, cleans, washes gallons, holds kids that are fighting the nurse in the dressing room, helps us handle security issues, watches to make sure no one steals anything, answers questions, buys food and supplies, runs errands around the village, hands out the food boxes to patients on Fridays, and basically does anything needed to make everything run smoothly and efficiently for staff and patients.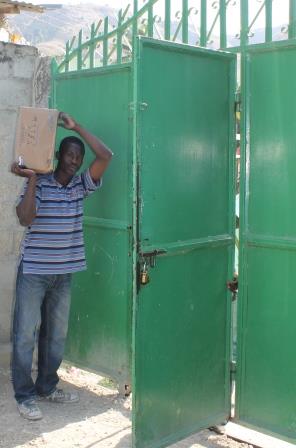 Everyone calls him "gason bon" which kind of means a good man that takes care of others.  He is quiet and consistent in all that he does.  He doesn't make his job a show.  He just does it and does it well.  He does all that he can to justly care for children, elderly, women, and special needs people.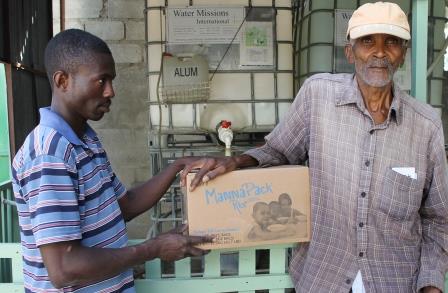 He was born and raised in Cazale and has lived here all his life.  He currently lives with his 2 daughters and their mother.  Their girls are 3 and 5 years old.  They would like to get married, but they don't have extra funds for that right now.  His parents are both still alive and live close to him.  He has 3 brothers and 3 sisters.
His uncle has a 4 room house that he allows family to use.  Pascal and his family live in 2 rooms and the other 2 rooms are used by 2 of Pascal's sisters.  The house is made of block and cement walls and a tin roof.  There is no bathroom, shower, kitchen, or running water.  He would like to have a house of their own for his family one day.
He likes living in Cazale because this is where he has always lived and it is where all his family lives.  One thing that he thinks needs improvement is the public water system.  He thinks everyone should have access to clean water.  Also, a better road would make life easier for everyone living here.  It would increase business and help people make more money.
He says he likes everything about his job except trying to monitor the clinic gate.  Sometimes there are too many people and they won't listen to him.  He doesn't like being mean and tries his best to explain things, but he doesn't like dealing with pushy people.
One situation that he will always remember is when a sick man came to the clinic gate.  He was very dehydrated from cholera and was almost dead.  He got the man inside quickly and a nurse put in an IV.  He started feeling better and Pascal was so happy.  He was able to give the family directions to the cholera center and later heard the man made a full recovery.  He likes being able to help others in this way.
His job helps him be able to pay for school for his girls and food for his family.  Sometimes he can even help care for his parents.  The job has given him lots of new friends and contacts.  He has also been able to learn many new things that he didn't know.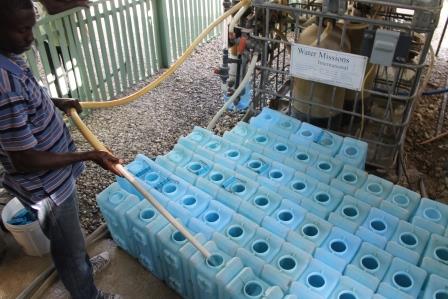 His job helps others in many ways.  He helps get people into the clinic when they are sick.  The clean water that he helps provide prevents illness and helps people not be thirsty.  At times, he can give advice to patients that he thinks helps them in their lives.  Sometimes he helps patients pay for medical costs if they can't afford it.  His job helps all of the staff to be able to do their jobs.
He sees that RHFH helps care for many sick people.  There would be many people (especially children) that would have died if they weren't able to get this health care.  Children are more healthy and parents know what foods are good to give their kids.  The mission is also giving many people jobs and these jobs help their whole families.
He would like for you to know that he is a person that doesn't get upset much.  He tries very hard to live well with others.  He is always ready and willing to do any work.  He is happy to have a job to provide for his family.  He likes to play with his kids and likes to swim.
He and his family go to the Baptist Church in Cazale.  He tries to follow God as best he can, but knows that he needs to get married.  He would like for you to pray that this would be possible.  Also, his dad is often sick with stomach pains.  Pray for the girls to do well in school.  He asks that you pray for his family to have the blessings of God and that things go well in their lives.