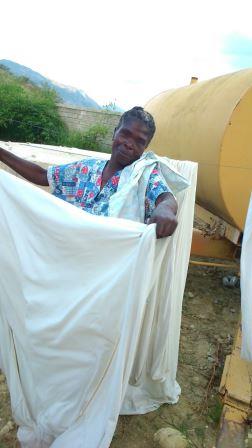 Paulina washes sheets, gowns, scrubs, towels, and much more at the cholera treatment center.  She is 53 years old and lives with her spouse and 5 children in a 2 room rock and cement house with a tin roof and porch.  They have a small kitchen out back, but no outhouse or shower.  The water source is about 15-20 minute walk away.  One of her children died of cholera when this water source got infected several years ago.  Two of her children have a house and family of her own and she has 4 children that are in the Dominican Republic.  She has 4 grand kids.  Her parents have died and she has one living sister.
She likes the area where she lives because she was born there and feels welcomed and relaxed there.  If she could improve on one thing in her area, it would be to build latrines.  She tries to be grateful for what her family has and where they live.  They are better off than lots of others.  She tries not to think about or hope for more because she doesn't have a guarantee that she will be able to get it or achieve it.  It is too great a risk for her children and family to do or to try anything different.  She is happy with her life and what she does.  It works for her family and they thank God for all that they do have.
She walks about 30-45 minutes to get to work at 6am and leaves at 6pm.  She works 3-4 days per week.  She loves her work and all the things that she does in the cholera center.  It doesn't upset her or bother her to do the dirty work because she knows that it has to be done and someone has to do it.  As she explains it, "Even if the baby is ugly, you still have to rock it to stop it from crying."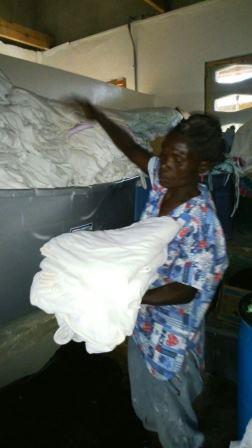 Her job brings good hygiene to the center and stops the spread of the disease.  She sees the importance and is happy to do what she can to help others with cholera.  Her job also helps her send her kids to school and buy needed items for them like food and clothes.
The small shelter that she uses has some soil washout from heavy rainfall and she thinks that it would be good to repair and do some erosion control measures, mostly planting some grass and plants around it.  She also would like another big plastic box or trunk to rinse the linens and clothes in too.
During a typical day of work, she comes in and changes out of her street clothes into the center's scrubs and then meets with the other staff and prayer (held at 6am and 6pm daily).  She enjoys shaking hands and hugging people after the prayer.  This is the time that she can most interact with the patients and families.  She then carries the water that is needed for the day to the wash shelter.  There is no running water in the cholera center and it must all be hauled up from the clinic in gallons and small barrels in the truck.  She carries the gallons from the holding area to the washing area.  Then, she gathers the dirty laundry from yesterday and last night.  As the staff get the patients up to clean in the morning, they will bring the laundry to her also.  She soaks everything in bleach, washes, rinses, and hangs it out to dry.  As the laundry is drying, she goes to help other staff by doing whatever she can – mopping, picking up trash, sweeping, running errands.  Her nickname is "Toutabon" which means "all the best" because she does the best that she can with every work she does.  When the clothes are dry, she folds them and puts them away.  She bathes, changes back into her street clothes, and goes to prayer to end the day.
She attends Catholic church in her village when she is able and asks that you pray for her family to be healthy and to advance in their lives so that they can help her when she is old.