This is a letter written by Gretchen on March 16, 1996.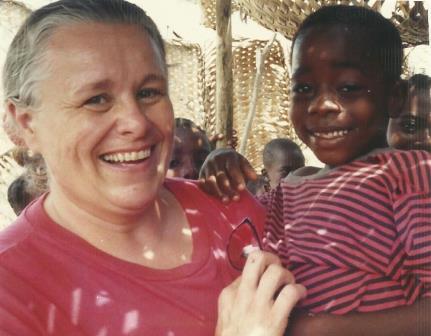 As we work and minister here in Haiti we think of our friends and supporters – our brothers and sisters in Christ.  You are honored, highly valued, esteemed, loved, and cherished.  You are very dear to us.  The last few weeks we have faced many difficulties and frustrations.  Although miles separate us, our hearts are bound together with one goal – to share the LOVE of JESUS with everyone we come in contact.  We could not continue without your prayers and support.  We consider it a privilege to be able to minister here in Haiti.  We hope you feel privileged to be a part of what God is doing.  God is so good and His blessings are so real and abundant.  When you give with a cheerful heart, we know God will bless you abundantly.
The footnote in my study Bible on James 1:24 says that , "We can't really know the depth of our character until we see how we react under pressure.  It is easy to be know to others when everything is going well,but can we still be kind when others are treating us unfairly?  God wants to make us mature and complete, not keep us from all pain.  Instead of complaining about our struggles, we shuld see them as opportunities for growth.  Thank God for promising to be with you in rough times."
I don't know about you, but this encourages us.  Everything is a test, we haven't got a very good grade some days, but we must continue the good fight of faith and when knocked down, get bak up and get back in the race.  Ephesians 5:20 says, " Give thanks always in all things."  The devil gives us many excuses and difficulties to discourage us to give up, but something rises up in me and says, "NO!  I will not give up.  I can do all things through Christ Jesus who strengthens me.  Amen!"  The devil is a liar and greater is He that  is in me than he that is in the world.  As you pray and support us.  You are ministering with us and also ministering to us.  Hallelujah!  Thank you for encouraging us and cheering us on as we run the race.  We can never express in words how much we apprecaite your obedience and faithfulness.  You are making heavenly deposits that won't decay way, but last eternally.  May God richly bless you.  We love you so much.
To God Be ALL the Glory,