Winter 1994-95
Praise God!  Hallelujah!  Our God is an awesome God.  He is a mighty God full of power and mercy and without Him we can do nothing.  We have been receiving more revelation of this everyday.  He is our all in all.  In Him, we live and move and have our being.
This has been very evident in our challenge to dig wells over the mountain behind our home.  It has been and is a big spiritual battle for us.  The devil doesn't want thousands of people living there to have good clean drinking water.  Some walk and carry water 4 to 5 miles one way and the water is not clean.  We have wanted to go over the mountain for over a year to drill, but it has been a struggle.  At the end of Sept, we were on our way.  We have a big army truck with 10 wheels to pull the drilling rig.  There are two very steep parts on the old mountain road and we started up the first and we started spinning.  Oh boy!  We went back home and put 50 110-pound sacks of wheat used for the feeding programs on the army truck for weight to get more traction.  We hooked up again and took another run at the mountain.  David Heady was in the army ruck pulling Zach in the well drilling rig.  David was in 2nd gear and Zach was in 1st gear and away we went, gas pedals floored.  We could literally feel God's angels pushing us up that steep mountain.  There were 1000 ft drop offs.
To God be the glory!  After we reached the top, we stopped, got out, thanked God, and had a little Hallelujah dance.  We got back in and went about 1/4 mile and a tire blew out on the army truck.  The devil was mad and we were glad.  Hallelujah!  We got back to the place we were going to dig the first well (Blanquet) and sat up on Friday.  To make along story short, the next Thursday we found a huge source of water at 125 ft.  God cracked the rock and gave water.  The following Saturday, we showed the Jesus Film over the well and 11 received Christ as Savior.  The same week, drilling was started in another area (Tapio) and, after two weeks and 260 feet, God again blessed us with water.  We know how water is drilled in the US.  Here it is a 8″ punch dill with a bit that punches the dirt and rock out.  It's a slow process and each well involves 1000's and 1000's of punches.  (Zach has blisters on his blisters.)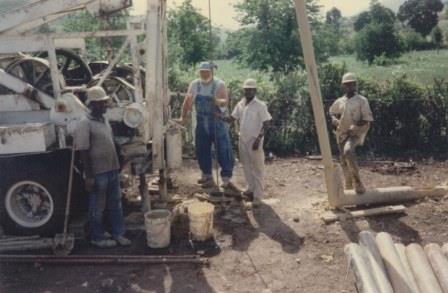 We are planning on digging at least 3 to 4 more wells in the area.  Please be praying that God will supply the funds and crack the rock to bring forth the precious life-sustaining water that is so needed.  And then also that we'll be able to dig those spiritual wells of salvation.
We are so blessed by your prayers, gifts, and financial support.  We know God is and will bless you for the investment you have made in many lives in Haiti.  This month, we were able to help 47 children attend school.  God says His people are destroyed for lack of knowledge.  Besides the precious hope and joy of knowing Christ, they need education to break the bonds of ignorance, witchcraft, and fear that the devil has so cunningly placed over this island.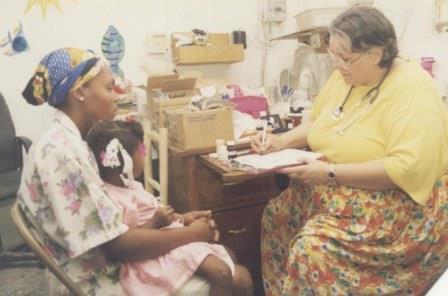 Medically, we see over 150 people a week.  Of these, many have additional needs.  We have helped with X-rays, lab tests, C-sections, and other operations.  One young lady, around 24 yrs old, came with large ulcerated sores to the bone in both legs.  We made arrangements for her to go to an American missionary hospital.  She was there 5 weeks and your giving (God's money) paid the bills.  She suffered for many months before she came to us and her hospital treatment was very painful, but praise God she is not recovering.  This week she was in church giving God glory – and that's where her thanks and our thanks should go.