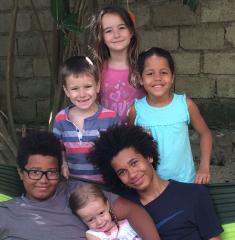 Our students have completed another incredible school year and we wanted to share some of their memories and thoughts with you .
3 words to describe my school year :
Henley– extraordinary, fun, challenging
Trey– challenging, fun, interesting
Grace– magnificent, fun, great
Isaiah– fun, great, awesome
Ameyah– fun, a little hard , smarter
Gretchen– fun, play, fun
Favorite Subject :
Henley– Science I am interested in black holes.
Trey– Math It was hard for me , but surprisingly fun.
Grace– Science I wondered about what God created and why. Science has the answers.
Isaiah– Language I love to write!
Ameyah– Math I liked dozens, money and adding.
Gretchen – Coloring
We studied the devotional Kingdom Keys by Tony Evans.The kids shared the Kingdom Key most memorable to them and why .
Henley– Responsibility It's important to finish stuff on time, be diligent, work harder and faster.
Trey – Teamwork It was important for Real Hope Academy to do things together, as a group.
Grace– Goals We had goals to finish our books , to be proud of what we finish and to show our parents.
Isaiah– Goals Ameyah and I finished a lot of goals together .
Ameyah– Integrity It was important to do all our work the right way .
Gretchen– Integrity It means all the way the right way.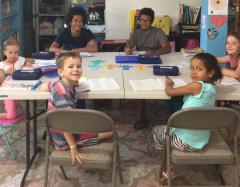 Our scripture for the 2016-2017 school year was Colossians 2:6-7
" Therefore, as you received Christ Jesus the Lord , so walk in him, rooted and built up in him and established in the faith just as you were taught , abounding in thanksgiving."
We were thankful for :
Henley – Everyone was always ready to learn.
Trey– Everyone was a diligent worker.
Grace– We always worked with a good attitude.
Isaiah– School was fun.
Ameyah– We always had fun at school.
Gretchen– I liked the smiley face at school.
Anna– God's rich blessing of amazing students !