Odnel starting volunteering soon after cholera started as a community health agent.  He worked as a volunteer to educate about cholera and give first aid.  He often sent patients to the cholera treatment center and collaborated with us and other organizations to fight against cholera.  In 2014, we were able to start paying six of these cholera health agents a small monthly salary and he was one of our first choices.  As we saw his intelligence and willingness to work, we had him train his brother as a health agent and hired Odnel in the clinic.  His current job is to input data, organize & file the clinic charts, help with reporting, hold Bible classes once a week, and help out with general clinic office work.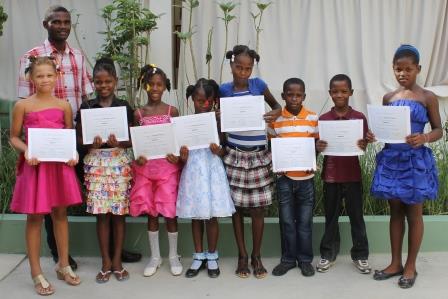 Odnel was born and lives in Bethel and he wants to tell you a bit about his village.  He went to primary school in Bethel and high school in Cabaret (a bigger town).  He's very proud to say that he completed all his years in school.  He is 28 years now and owns his house.  He lives in a 2 room block & cement house with a tin roof.  It has a lean-to on the side that is used as a cholera first aid station.  His mom and younger brother live with him.  They share a latrine with other a few other houses in the area.  They have an area to bathe and a outdoor kitchen.  They don't have piped water close to their house.  They go to a water source near their home for all their water needs.  They treat their drinking water with aquatabs (chlorine tablets).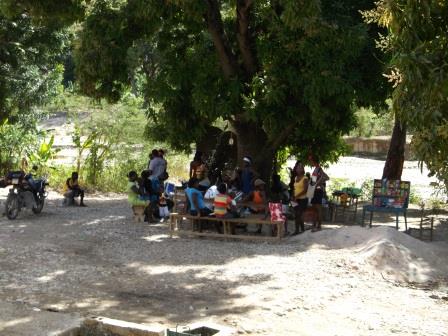 The common activities in the village are playing soccer, fighting roosters, going to church, watching movies, and swimming in the river.  Odnel likes to listen to music and play soccer.  He also enjoys working with a community group in Bethel.  They keep the village clean and help the poor to find the resources that they need.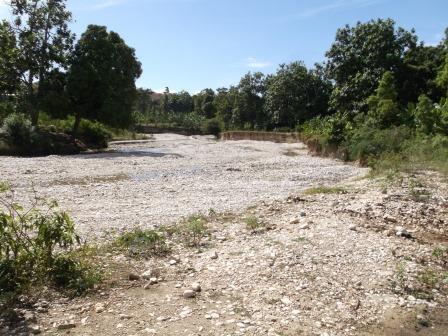 On Sept 7, 2008, there was a big flood that destroyed most of the village.  There were many deaths of people and animals.  Houses, churches, schools, and gardens were completely destroyed.  This event changed everyone's lives and brought them to their knees.  All those that lost their homes gathered in the government school that wasn't destroyed.  These days were very hard and everyone cried.  After awhile, they organized themselves to do different jobs.  Several of the men recovered bodies and buried them.  Odnel had the job of record keeping and turning in the reports on the dead to the government.  He started getting introduced to international organizations that wanted to help as he was working with the government.  He helped get food donated for the people that were living in the school.  Many people lived in the school for months.  Some rebuilt their houses and others moved in with friends or family.  Many families were never able to rebuild and still live with others now.  The gardens were destroyed.  Plantains, trees, and other crops were lost.  It took several years to replace these and get the gardens back to normal.  The area still suffers from the effects of this flood.  The rushing waters tore away their piped water system that used to supply the village with drinking water.  This was a huge loss and one that has caused lots of disease for people in the village.  The strong current of the water also cut into the main road and made it impassable for a time.  The villagers have tried to fix it several times, but it gets destroyed each time there are high waters in the river.  The erosion to this road caused by the flood will be almost impossible to repair.  Odnel remembers this time as a difficult one, but also remembers how it brought everyone together.  There were people that didn't even have a sheet to lay on and only got away from the waters with the clothes on their backs.  Others in the village shared with them.  They were all in it together and they sacrificed for each other to help meet their basic needs.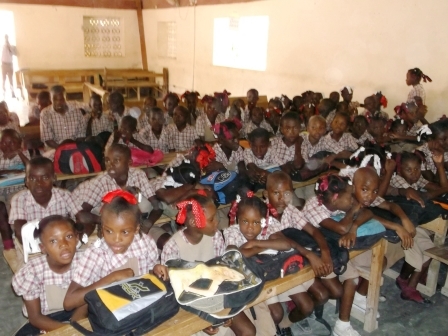 When Odnel was a kid, there were many children that didn't go to school and not many completed all years of school.  He sees that the village leaders have put an emphasis on education in the last few years.  They encourage parents to send their kids to school and try to find financial help for those that can't afford it.
Most jobs in the area are either working in the gardens to produce food or buying & selling foods or other goods.  Another job is school teachers.  There are 7 schools in the village.  There is one carpenter and 1 guy with a grain grinder.  The most common foods produced are plantains, grains, and corn.
He likes living in Bethel because he was born there and this is the village that he knows.  His family and friends live there.  He thinks that the people are nice and help each other out.  You don't have to be rich to live well when you have friends in Bethel.  They take care of each other.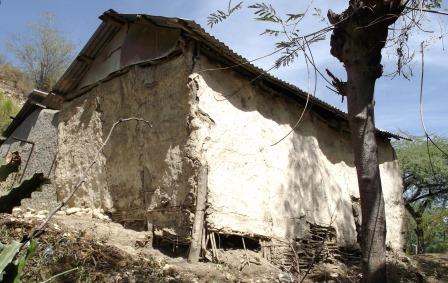 He thinks that Bethel needs to get the piped water system repaired and get the road repaired.  It would be great if they could get electricity and a high school in the area.  If there was one thing he could change it would be to stop the cock fighting and make that spot in town a bakery to make bread for people in the area.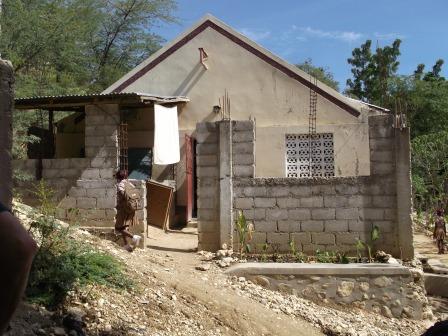 The older generation always passes down stories of the town and past events.  There isn't much written materials.  One story that the older people in the village tell is that when the village was being named everyone in the area were Christians.  They named the village Bethel because it means "House of God" or "Kay Bondye."  They wanted the area to remain Christian and glorify God.  Things have greatly changed over the years and there are 3 vodou temples in the village.  There are 7 churches.  The elders in the village tell everyone to continue to pray that the village will become Christian again.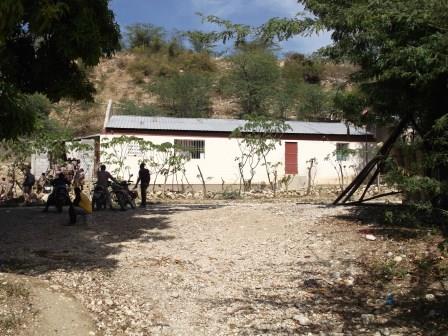 Odnel is a Christian and attends Bethel AME (African Methodist Episcopal Church).  He asks that you pray for his village – for more development and union among the churches.  Politics have come into some of the churches during the current elections and it is causing division.  He prays that everyone will decrease their focus on politics and increase their focus on God and become closer to Him.