Links around the time frame 1994
Truth Commission Haiti 1994-1996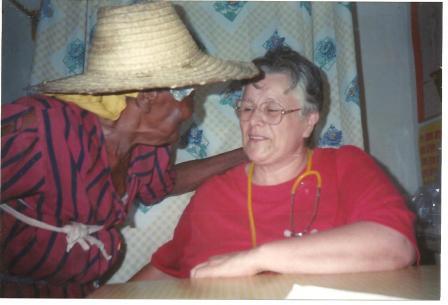 This letter was written by Gretchen in October 1994
We are in our ninth month of serving in Haiti.  Each Day is precious.  God has proven Himself time and time and time again to be everything His word promises.  I think the more we depend on God instead of ourselves, the more we grow in faith and the more we please Him, He is our everything.
In clinic 2 weeks ago we had a 6 year old girl from Tapio (a village in the mountains behind Titanyen) she weighed 17 pounds.  Two younger children in the family had died from malnutrition.  He father carried her many miles to seek help. We have seen other extreme cases from that area.  Zach, David and a few other men went to the area to visit this week. Travel even by a 4X4 is difficult and tedious.  They found the conditions to be grave.  Crops failed for the second season due to lack of rain.  We are going to begin working on starting a feeding program there.  First we have to fix the existing road and build and access road to the villages so food can be taken in. (note* after several months several feeding centers were set up.  Every Monday morning food was taken to these villages by a John Deer tractor and pull behind wagon-God only knows how many lives were spared from malnutrition during this difficult time in Haiti) We already have the names of 800 children who are in great need, all will have to be dewormed first.  We have plans to take the Jesus Film there soon and are praying about planting a church there. Some have received Jesus and need a shepherd and a place to worship.
We may get some help from the US military.  I suppose you are becoming more informed about Haiti from the news. I see the soldiers young and looking so tense.  I wish I could bake them all some cookies or fix them a hot meal.  The military build up is massive. It is not all shown on TV, but there are 1000's & 1000s of vehicles here along with acres and acres of equipment and planes of all sizes– oh yes and those loud and ever present helicopters.  Sometimes it seems like a dream I am living in.  We all look so powerful, but only God's power can change the country because first hearts have to be changed.  God is able!
Our heart is here, our life is here, our work is here.  People we care about very much are here.  We have a lot to thank God for and a lot to pray about.  We thank you for your concern and help.  Let's be strong and faithful nothing we do for the Lord is ever wasted.  We love you all so much.  I am at the end of the page, I feel like writing on the edges if I could-there is so much I'd like to share about Haiti with you.  Be praying about coming for a visit 🙂
It does not matter whether you are a janitor, an usher a singer or musician, youth leader, elder or missionary or anyone saved by grace, we are all children of the most high God.  Let us do everything we can with as much intensity as we can-and do it all for the GLORY OF GOD!  Let us do it together and enter into the peace and the joy of our Lord forever more.  Amen!  Hallelujah!
To God be all the Glory,